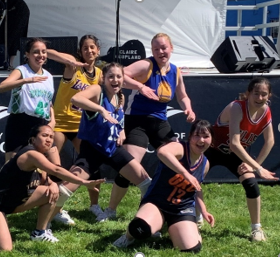 Course Selections
Dance
Beginner Dance Foundations 9/10/11/12
An introductory course to the foundations and techniques of Hip-Hop, Jazz, Lyrical, Modern Stage,
Contemporary, Ballet-Jazz and Tap; Body Alignment and Conditioning, Injury Prevention and BodySpatial Awareness specific to the elements of the dance to be included. Beginner Dance is designed to
develop and support self-confidence through the movement-dance experience.
Intermediate Dance Foundations 9/10/11/12
Prerequisite: Beginner Dance of Equivalent of 2 years Training
Intermediate Dance challenges the student with a higher skill and technique level in Hip-Hop, Jazz,
Contemporary, and Lyrical. It is expected the Intermediate dancer can execute pirouettes, pique turns,
and grand jetes with a stable pelvis and center. Intermediate Dance is designed to introduce dancers to
a wide range of choreographic experiences and Dance genres.
Advance Dance Foundations 9/10/11/12
Prerequisite: Intermediate Dance Foundations 9/10/11/12 or with Faculty Permission
This class is offered within the timetable.
A fast-paced and technically challenging course that includes a comprehensive and intensive study of
genres best suited to the interests of the Advance dancers as individuals and as a class. Technical
refinement and expression in movement-dance for the stage and camera will be explored with the
potential to produce formal and informal works for both stage and camera. Professional Dance Artists
are invited to work with students in creating final dance work.
Advance dancers seeking acceptance to a post-secondary training school will be prepared for their
auditions as outlined by specific criteria of selected universities and Professional Training Programs.
NEW: Dance Company Performance and Production 9/10/11/12
Prerequisite: (Dance by Audition) and (Production by Interview)
This course is outside the timetable and open to students interested in Dance, Production, and Film
work. Once registered students will select Dance or Production (or both) as their area of focus. It is
highly recommended that students accepted into Dance Company also register for Advance Dance.
Dance Performance Curriculum includes: A performance based linear course scheduled outside the
timetable – September to June. The VHS Dance Company is known as "Platform 61" est.
2005. Experienced dancers focus on building a diverse repertory that reflects the dancers strengths and
interests. Dancers will showcase personal and set choreography in a performance setting with the
support of the Production Team. Each year Guest Choreographers and Canadian Film Producers are
invited to workshop and share ideas in a pre-professional setting. Production components include:
choices made for the frame, creative and conceptual thinking, camera techniques, storyboarding, pre &
post production, editing and viewing of seminal as well as experimental video dance works, music,
costume, props, lights, and set design.
Dance Choreography 11/12

An introductory course to choreographic forms, structures and devices. Students will use composition
skills to create, rehearse, refine and perform choreographed works. Production elements for both stage
and film to be explored: music, costume, props, lights, set design.
Drama
Drama 9/10

Junior drama focuses on ensemble building and developing the foundational skills required to
find success in senior drama. Emphasis is placed on self-reflection and individual growth
through participation-based activities and assignments. Students study voice, movement,
improvisation, characterization, and play building. Junior drama can be taken twice, with new
curriculum and skills taught in each course. Students are encouraged to take junior drama
before taking senior drama.
Drama 11/12

It is suggested that students take at least one semester of Junior drama 9/10 before
taking drama 11/12. Senior drama focuses on ensemble building and further developing
and honing the foundational skills covered in junior drama. Senior students will study
script analysis, character development, and advanced theories of acting technique and
process. Students will both learn and analyze the differences in film vs. theatre acting
and will conduct a self-exploration theatre inquiry in advanced areas of performance
and production.
Musical Theatre
Musical Theatre 10/11/12

This is an out-of-timetable, by-audition course and gives credits to students who perform in the
annual school musical. Students are expected to attend each rehearsal and will learn the
intricacies of live performance. Students will develop skills in ensemble building, dance, stage
blocking, vocals, and acting. Students are expected to help support all elements of the
production, including fundraising and advertising. Students are given the opportunity to help
select the annual musical. Casting is based on availability, years of musical experience, and an
audition that includes a song and monologue. Please be prepared for evening and weekend
rehearsals, as needed.
For more information, please consult our Course Selection Handbook :   Grade 10 – 12 Course Handbook