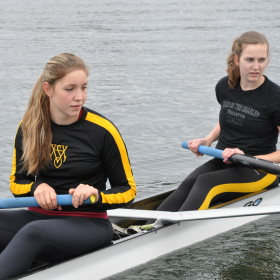 Philosophy and Purposes
Victoria High School provides a variety of extracurricular sport participation opportunities to our grade 9 to 12 students through our athletics program, through our athletics program and completely independent from our physical education courses and intramurals program. All participants are encouraged to pursue sports, which satisfy their particular interests and are related to their identified skills-sets. Fundamental to VIC HIGH's philosophy is our commitment to providing inclusive environments that encourage positive outcomes both socially and athletically.
The extracurricular sport participation opportunities offer to our grade 9 to 12 students at VIC HIGH include both individual and team sports: cross-country, rowing, rugby, soccer, volleyball, basketball, badminton, and tennis. Also, based on students' interest and available coaching, additional extracurricular sport participation opportunities may be available: field hockey, wrestling, and cycling.
Parents of students who may be considering attending or currently attend VIC HIGH are encouraged to contact our athletic director if needed: jcole@sd61.bc.ca.