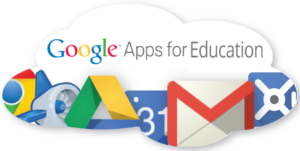 What is a Google Apps for Education Student Account?
A Google Apps for Education (GAFE) student account allows you to access your learning within a secure online collaboration platform provided and managed by the School District. GAFE offers unlimited online file storage and is to be used for educational purposes along with other Google Apps tools. These tools are accessible from any device that has access to the internet.
If you are a student between Grade 9-12, student consent is required for a SD61 GAFE account. Please visit the site below and see the options on the left to request a SD61 GAFE account or to reset your password. You will be prompted to authenticate using your SD61 network account and password.
Student GAFE Account Sign Up
Go to:

www.sd61.bc.ca
Go to: My Accounts

Tab at the top of the page

Select: GAFE Account
Click > Request/Renew an Account on the side of the page
If requested, enter your Student Number and Password

(the same one you use to log into the school computers and wifi)

Scroll DOWN

Your name should show up on the bottom of the page as part of a user agreement statement

Read the terms and conditions, check off

you have done so, and click

Request Account

You will immediately see your login information.  Record This!

Example: alexism1234@sd61learn.ca  

Your default password is gafegafe
You will be asked to change your password on first log in.

Wait and try to log in.  It may take up to two hours for your account to be active.