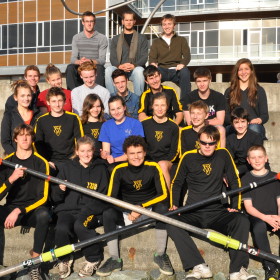 Rowing is a sport that utilizes balance, strength, and rhythm, skill-sets necessary to realize both individual and team success.  Students participating in rowing typically do so for numerous reasons, among these is a desire to try something new that may develop unique fitness opportunities; basic skills related to strokes, teamwork, and tactics are emphasized; absolutely no prior experience is required.
Rowing
Players: Approximately 25 per team
Teams
Boys and Girls (Junior & Senior)
Students compete in singles, doubles, and quads
Recent Highlights
Play
    Fall Season: September to November
Practices: 3 water/wk. and 2 dry land/wk.
Races: 1/2wk.
Coaches