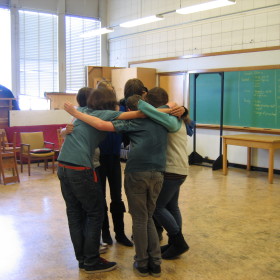 Improvisational theatre can be best described as collective storytelling.  The skills the students learn will help them in many more ways besides performing – we're talking public speaking, self confidence (performing in front of audiences starting at 20 people and up to 200 people or more), teamwork, listening skills, presentation skills and the list goes on.
The club has a variety of activities throughout the year – from competitive style improv to stylized improv performances (e.g. an improvised murder mystery) and the occasional field trip.
All levels of acting experience are welcome. For more information, please contact Ms. Sholinder, the Improv Club Advisor.